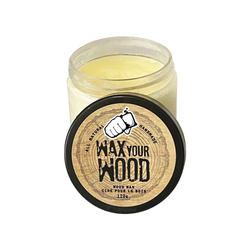 Use ManSoap's 'Wax your Wood' to maintain a rich appearance and nourish your Timberware wood furniture. Hand made with premium beeswax and natural plant oils. You can trust this product knowing that it does not contain any damaging chemicals to you or your wood. Scented with tangerine and lime essential oils; it smells amazing as well!
To use: Ensure the surface is clean and free from dust. Take a small amount from the jar with fingers or a clean soft cloth and apply to the wood in the direction of the grain. Leave for 5 minutes or as long as you can to allow it to penetrate the wood. Buff with a different, clean, soft cloth. This polish will not give a high shine, but rather a gentle, satin sheen.
ManSoap Company products are handmade, in small batch, with premium quality, all natural ingredients.
Small: 60 g 
Large: 240 g

Handmade locally.