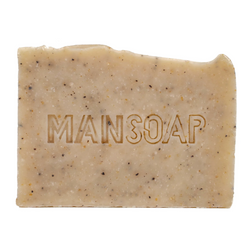 ManSoap Coffee Exfoliant Soap
Made with real coffee grounds and steel cut oats, this invigorating soap makes a great natural exfoliation solution given its slightly coarse texture. Not your average soap bar, it cleanses, moisturizes, and exfoliates your skin all at the same time!
Benefits of coffee soap:
Coffee is one of nature's best deodorizers and is a perfect ingredient for neutralizing odours such as garlic, onion, fish or any other disagreeable smells.
Coffee is also packed full of antioxidants which improves circulation to firm and brighten skin.
Coffee soap is beneficial in toning skin, reducing redness, eliminating cellulite, and fading stretch marks and acne scars.
Made using ground coffee beans from Brown Bag Coffee Roasters.
ManSoap Company bar soaps are handmade, in small batch, with all natural ingredients.
INGREDIENTS:
Olea europaea (olive) oil, cocos nucifera (coconut) oil, elaeis guineensis (palm) oil, ricinus communis (castor) oil, coffee grounds, steel cut oats, essential oils.
100+ grams
External use only. Do not consume.

Locally handmade.