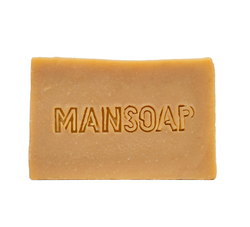 When beer is added to the soap making process (rather than water) it packs a big punch when it comes to moisturizing and adds many benefits.
Benefits of Beer Soap:
Beer produces a wonderful creamy conditioning lather and creates lots of bubbles.
Beer is made with hops which is known for its relaxing properties. Hops contains skin softening amino acids, which can soothe irritated and inflamed skin.
The brewer's yeast in beer acts as an anti-bacterial agent, great for combating acne.
The skin drying alcohol is completely removed from the beer before it is added to our raw soap mixture.
Beer is rich in vitamins, minerals, antioxidants and amino acids; it is an excellent treatment for your skin!
A simple ingredient, with extraordinary benefits!
Intoxicate your skin with this amazing bar of soap!
ManSoap Company bar soaps are handmade, in small batch, with all natural ingredients.
INGREDIENTS:
Olea europaea (olive) oil, cocos nucifera (coconut) oil, elaeis guineensis (palm) oil, ricinus communis (castor) oil, beer, essential oils.
100+ grams.
External use only. Do not consume.

Locally handmade.