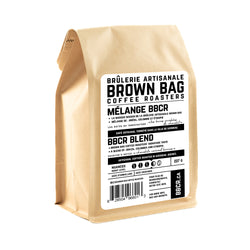 BBCR - BBCR Blend (Medium/Dark Roast)
Brown Bag Coffee Roaster's signature blend. This blend showcases the heart of the company. If you want to know what kind of coffee they produce, BBCR Blend is a great place to start. Balanced from start to finish you can expect subtle notes of chocolate covered berries.
Blending Brazil, Colombia & Ethiopia, this coffee brings out brand new flavour combinations where they wouldn't normally be present in those coffees alone. This way they create something truly unique!
Best enjoyed: Enjoy this coffee in any and all brewing techniques and drink styles.
Specs: As a medium roast, this house blend sits at 19 on the Roast Vision Scale and 76 on the Agtron Gourmet Colour Scale laid out by the Specialty Coffee Association (SCA).
ROASTER'S NOTES:

Very well balanced with a smooth finish of chocolates and berries
Species: 100% Arabica (Brazil, Colombia & Ethiopia)
Process: Multiple
Certification: Multiple
Roast Level: 76 Agtron Gourmet, 19 Medium
Brewing Recommendations: Drip, Immersion, Espresso
TASTING NOTES:
well balanced with a smooth finish
chocolate
berries